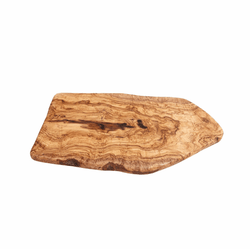 This extra large "platter" is coming from Tuscany, Italy and is handcrafted by Emilio from regional trees. The wood shows unique patterns through its irregular veins and various shades of colours. 
Perfect for cheese, salami and nibbles in the middle of the table!
Product features
Dimensions Approx. L 83 cm x W 52 cm H 3cm
Material Olive Wood
Handmade
__________
To clean, use a hard sponge and hot water without soap. Olive wood is very  resistant. Occasionally you can rub some seed oil to revive the patterns and the colours.