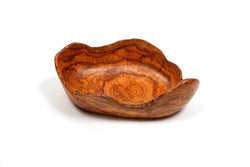 The bowl is coming from Tuscany, Italy and is handcrafted by Emilio from regional trees. The wood shows unique patterns through its irregular veins and various shades of colours. The surfaces are polished but the bark is kept along the edges. This item is unique by keeping its natural form.
Perfect for salads, fruit or just standing on a tabletop.
Dimensions
Length 35.5cm x Width 25cm x Depth 12cm
Diameter 98cm
For cleaning the Olive wood items, only use a hard sponge and hot water without soap. Olive wood is very robust and resistant.
Occasionally you can rub some sunflower oil to revive the patterns and the colours.