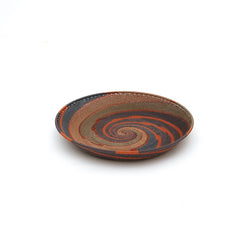 These decorative plates are hand-woven out of telephone wire by Zulu women in South Africa. It is traditional Zulu work and are made from coils of telephone wire wrapped around a solid metal core, to define its shape.
They have a modern twist to their make with the infusion of colour patterns. The intricacy in the design makes these baskets so precious due to the sometimes very long production days involved in their design.
They can be used as a decorative center piece or as wall decor.
Wash gently with warm soapy water.
26 cm diameter 5 cm High